No doubt, street food is a unique, rich part of food culture that reflect our age-old traditions in shopping, cooking and eating. Foodies know that Istanbul is definitely no exception to that! While travelling abroad in the past decade, I have come across many small gourmet walking tours offering the wonderland of street food for those who would like to savour the flavours of  a cuisine outside the rigid, and rated  restaurant system. In istanbul, too, sampling the delights of Turkish cuisine in small eateries or street stalls has quickly become a staple of the travel industry. How about the street vendors carts which enable you to sample your way through regional cuisines from all around the country?
This photo was taken on a lovely sunday in Garipçe, one of the few villages -I mean it literally- of the Bosphorus. In the last few years its breakfast spots have become popular with locals who frequent the village at the weekends. It is cherry-picked for the construction of the 3rd bridge, so try to make it before it is too late!! The blue wooden cart sells of pots of basil, which is a natural mosquito repellent we still use in istanbul.
PS. Photo # 1 featured in my photo exhibition, Revisiting the City.
Another sunday in the old town, so all the carts were resting. These small wooden carts are usually for selling rice with chick peas, cheap lunch snack! Do you see the arch in the background? a part of the Valens Aqueduct dating back to the 4th century. If in the mood to explore this little alleyway with the Roman arch, you need to walk towards the east wing of the aqueduct.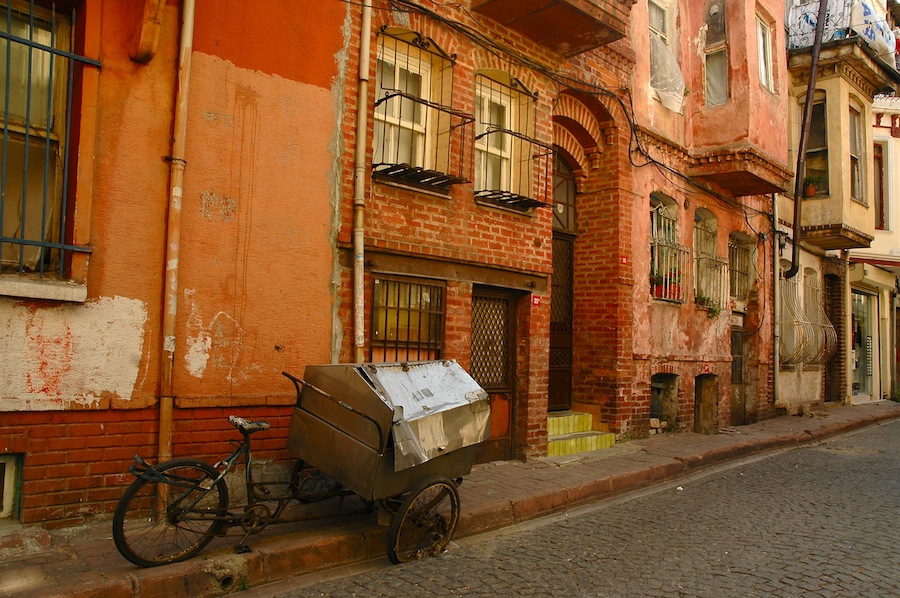 The tin ones are for grilled meat balls and kokoreç, which is chopped lamb intestines seasoned with oregano and hot pepper.  By the way, Turks are terrified by the idea that they have to give up on their kokoreç to meet EU food safety standards in case Turkey joins the European Union; one valid reason to oppose the integration into the EU:)
The carts covered with blue rubber cloth are for selling fresh vegetables. In the old town, they function as mobile groceries. Outside the old town, they are usually parked in a fixed location, which means you know where to find your local grocery guy!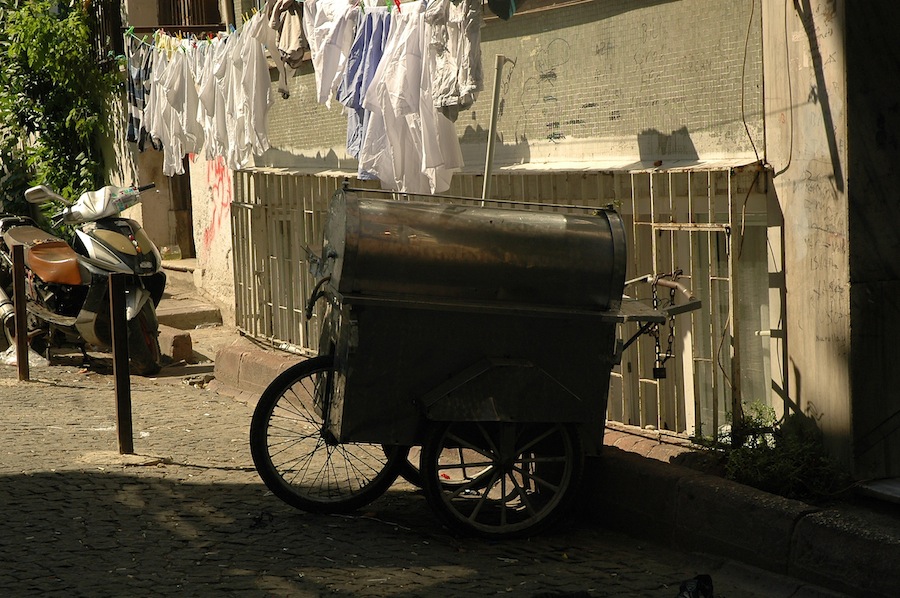 Tags:
3rd bridge
Bosphorus
breakfast
EU
exhibition photo
foodies
Garipçe
old town
portrait
Roman heritage
series
street food
street vendors
Sunday suggestion
Valens aqueduct
vendors