In the 1990s, a photo historian's discovery of Charles W. Cushman's archive revealed the '30s world in color, an era which we are very much used to seeing in black. It turned out that Cushman, an amateur photographer, was one of the early adopters of Kodak's Kodachrome color film, which came out in the 30s but was somewhat ignored for almost decades partially due to its expensive developing process. To our luck, he did not only explore and document the US but also many countries he visited in Europe till the 70s. Later, he donated his Alma Mater his archive of 14,000 photos, which unfortunately ended up in dusty boxes in a professor's office. Now they are brought to daylight and were digitized by Indiana University.
I discovered Cushman through a New York blog I follow, Ephemeral New York, which has inspired me a lot while working on my blog. Here is a bunch of Istanbul photos taken in the mid 60s. Don't expect to see the city so green today, let me warn you…
Maçka Park and Dolmabahçe, probably taken from Hilton Hotel
Hacopulo Passage Galatasaray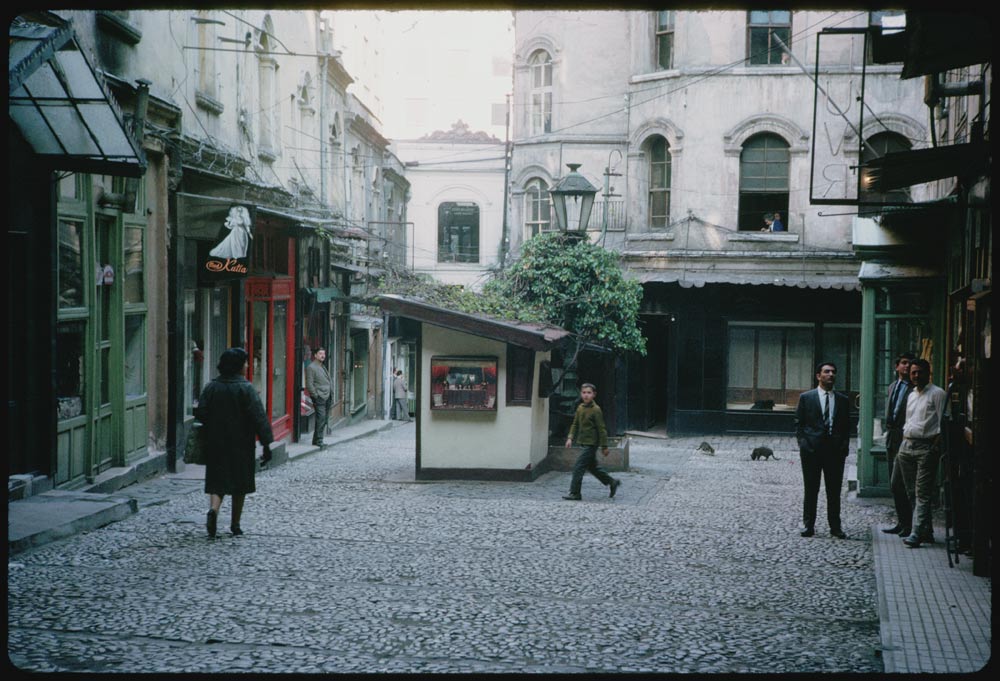 Lovely fishing boats. I can spot the Art-deco Hıdiv Pavillion on the Asian side, so he must have taken the picture from Emirgan.
From Galata bridge to Karaköy… Did you notice that the Galata tower has no conical cap? The present roof was rebuilt in 1965-67, probably shortly after this photo was taken.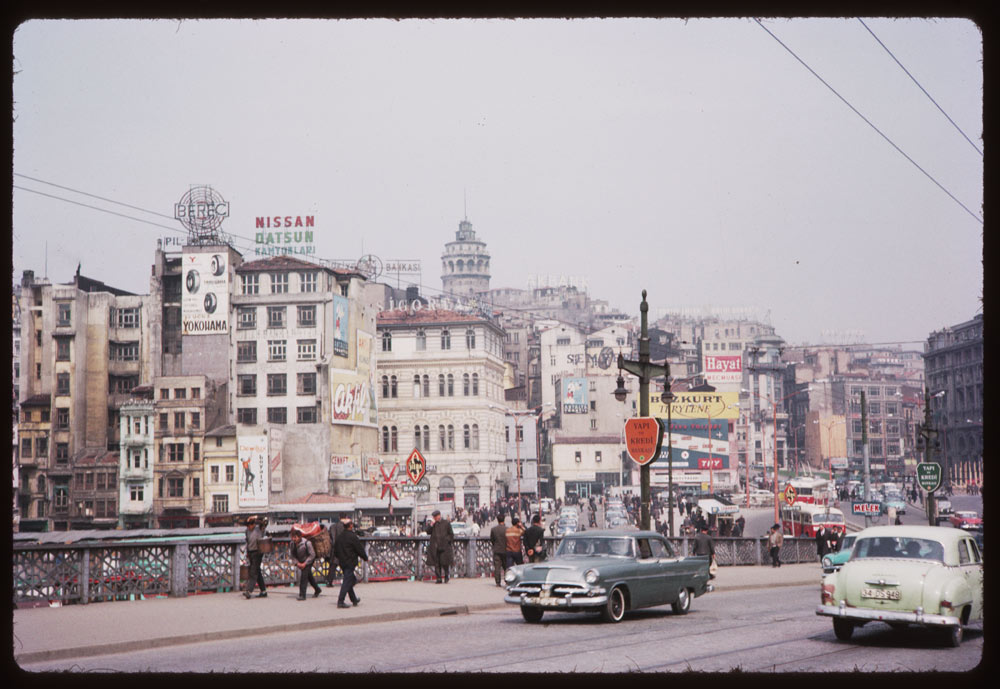 A handsome ferry anchored at Beşiktaş pier. Sıhap, built in Glasgow, seems to be enjoying its last days on the Bosphorus.
Hagia Sophia. Not shadowed by city tour buses or the crowds yet…
And below is the Sultanahmet square.  You see the Blue Mosque in the background. On the right side is  Haseki Hürrem Sultan Hamam built by Sinan the Architect for the beloved wife of Süleyman the Magnificient on the grounds of the former Roman bath Zeuxippus.
Sultanahmet Arasta bazaar from the 17th century. After its restoration, it is now home to Mosaic museum and a shopping arcade.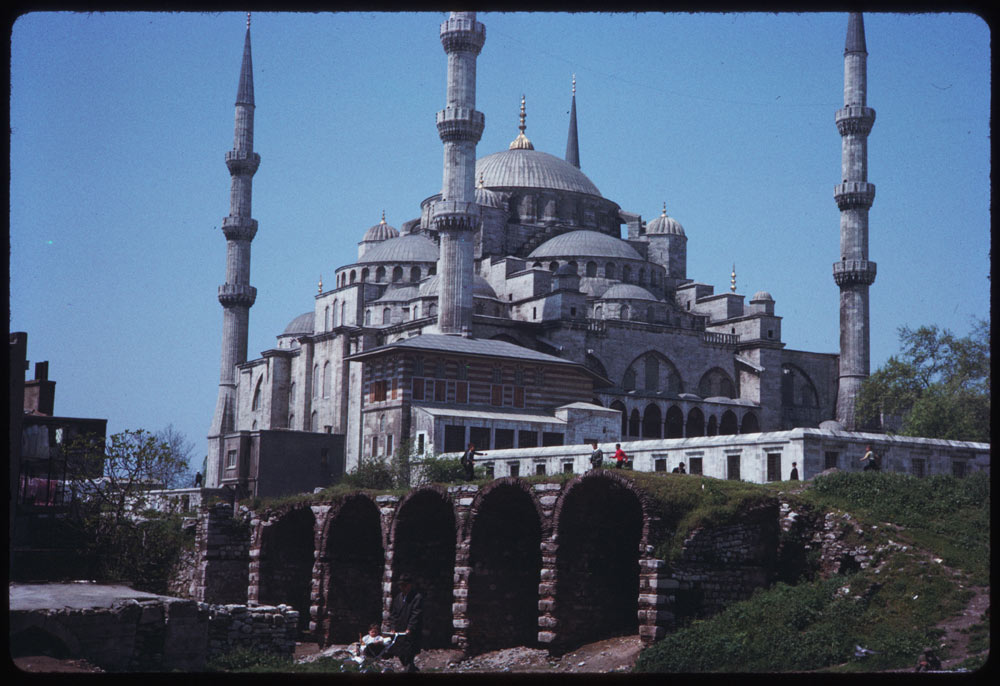 Street vendors… I still see a street vendor selling dairy products walking through my neighborhood around 11 every morning.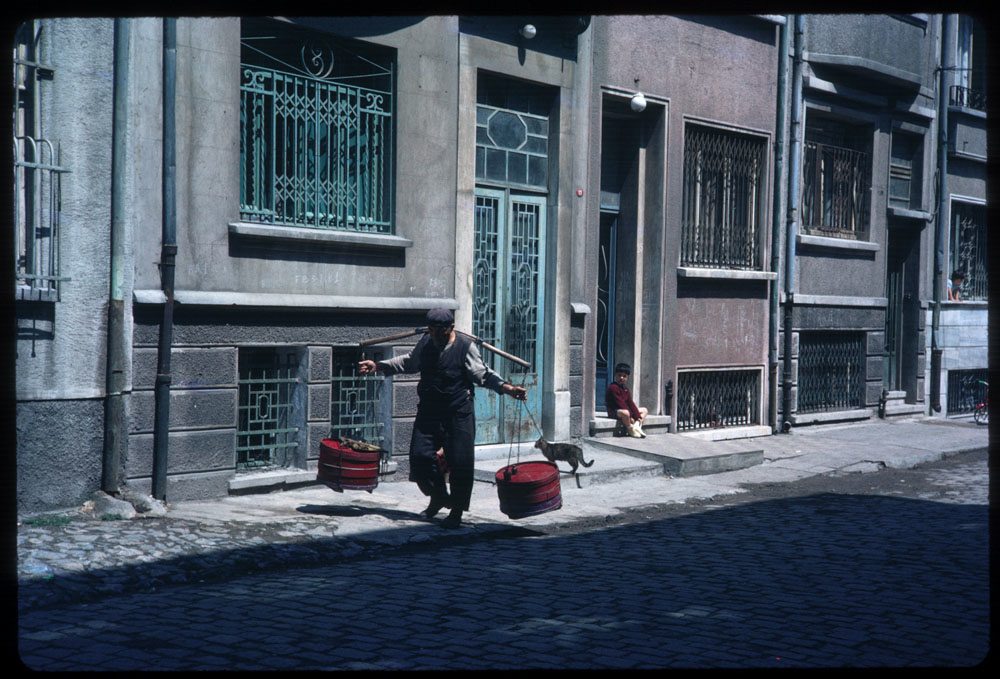 Cihangir. The corner that overlooks the Firuzağa mosque is still recognizable.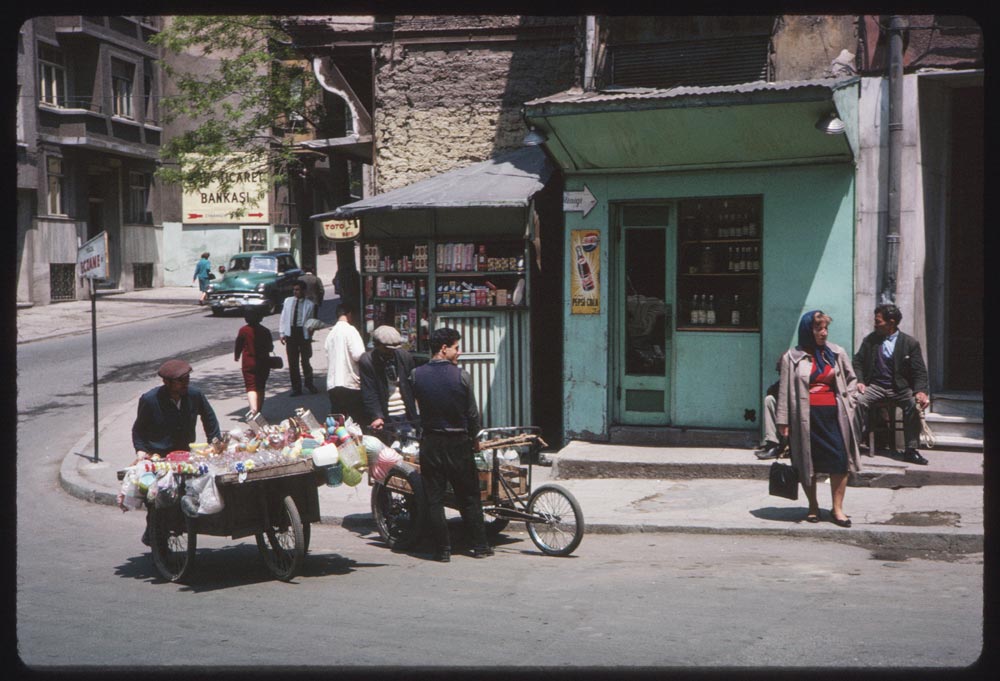 On of the icon of the city, the Galata Tower and Tophane main street.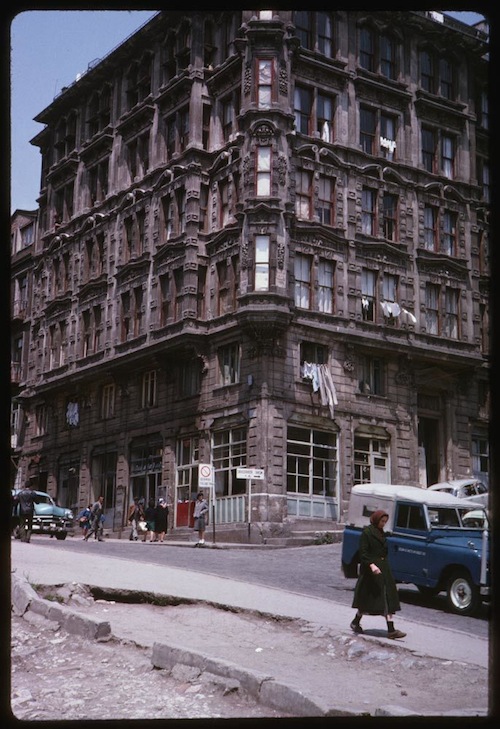 Judas trees at the Rumeli Fortress. Judas blossoms only for a short period of time in spring. If I somehow miss it that year, I consider it a loss for my life…:)
Bosphorus University on top of the hill and down the hill is the Aşiyan cemetery, the oldest Muslim cemetery on the European side.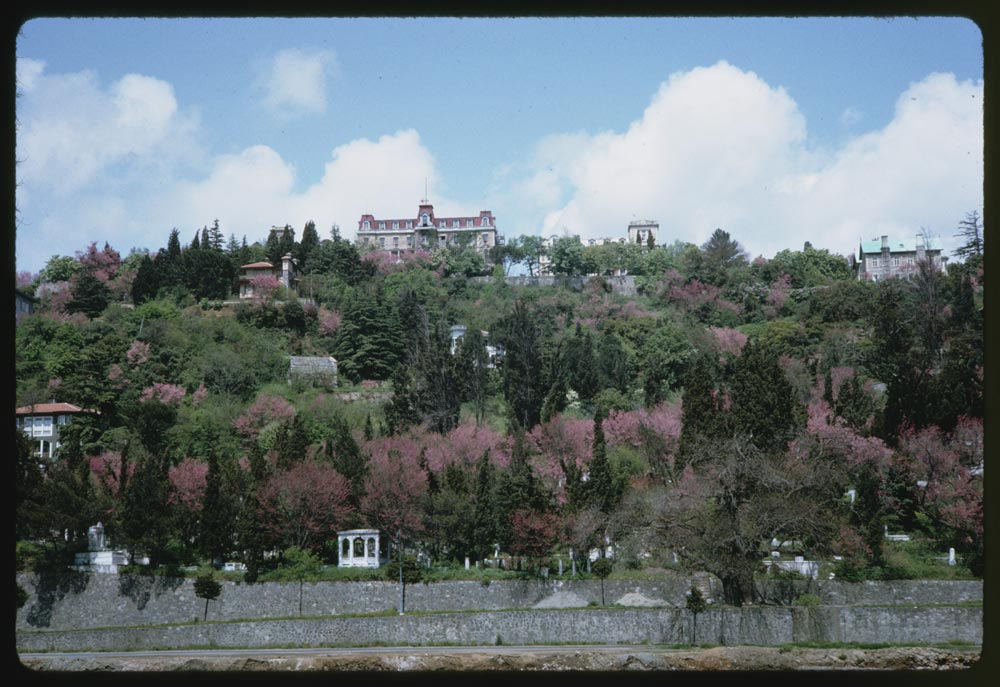 Rumeli Hisarı, if I am not mistaken. I can only recognize the mescit, the small mosque on the seaside.
Galata and Karaköy in the background so this eerie marine museum with a pelican must be somewhere in Eminönü.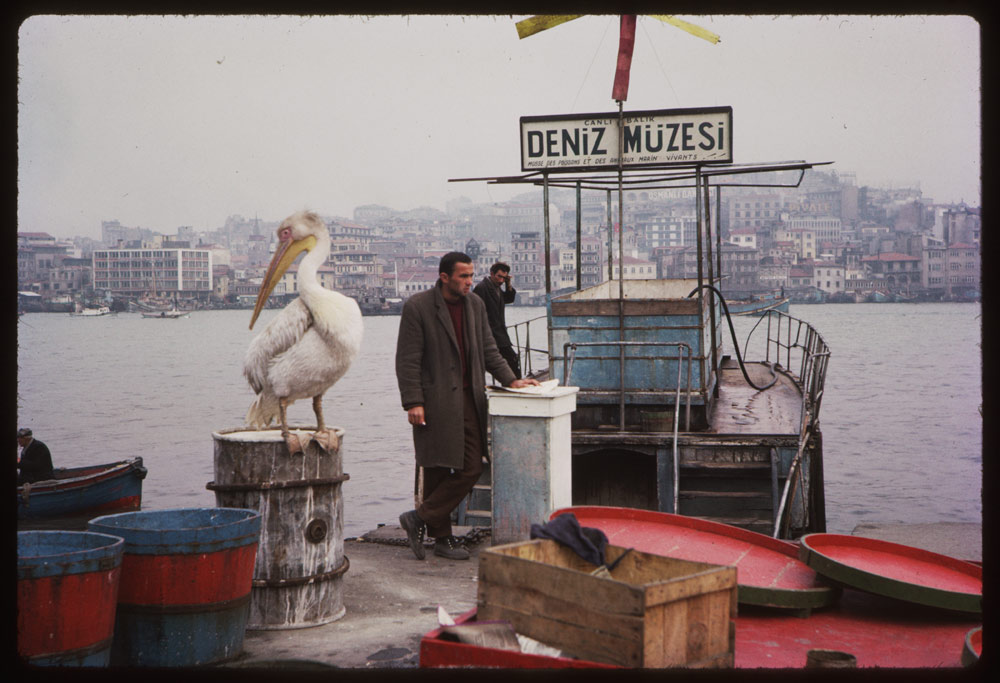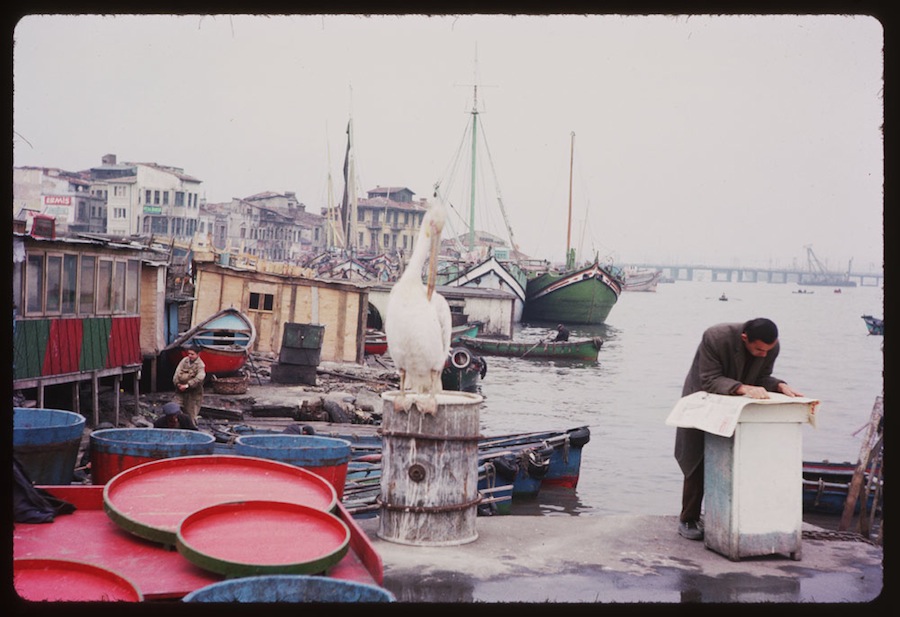 Tags:
60s
American
arasta
archive
Blue Mosque
Boğaziçi University
Bosphorus
cemetery
Charles Cushman
Cihangir
Eminönü
ferry
fortress
Galata Tower
Galatasaray
Golden Horn
Hagia Sophia
Hıdiv Pavillion
judas trees
landmarks
Maçka
Maçka Park
Marine Museum
mosaic museum
mosques
pera
photographers
pier
Rumeli Fortress
Rumeli Hisarı
Sinan the Architect
spring
street vendors
Tophane