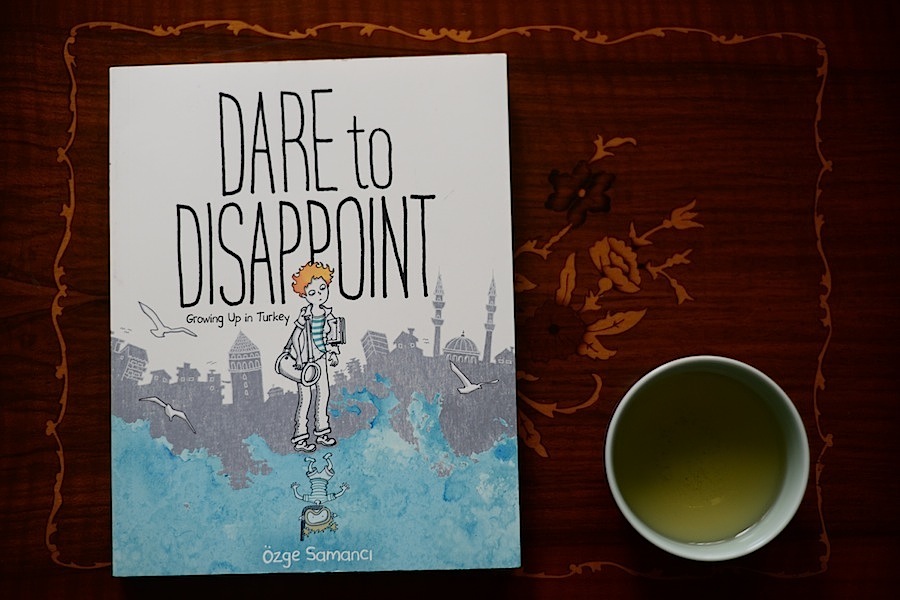 Some people are damn good with words!  You experience similar things, but they happen to have the knack for interpreting your feelings when your words would fall short. Özge Samancı is one of those people gifted with story telling. I could have finished her autobiographical graphic novel, Dare to Disappoint, Growing up in Turkey at one sitting, but did my best not to. For one, it was not simply the familiar story line of my generation that spoke to me deeply, it was also the way she remembered and communicated the past with the empathy and sensitivity that I felt deep down but preferred to hush rather than voice while growing up. I still whisper when discussing certain topics even in English, so my respect goes to Samancı, who narrated the story of some of us with her bold and intimate voice and sharp observations. On top of that, together with her command of mixed media, her artistic style is truly fascinating!
The 80s witnessed the rise of political Islam and the neo-liberal policies of Özal, (Reagan and Thatcher's counterpart) which shaped the political and social climate of Turkey drastically. What followed in the next decades was the issues of domestic violence, sexual orientation, oppressed religious, and ethnic identities coming out of the Pandora's box. Growing up in Istanbul under the shadow of militaristic nationalism, in a politically corrupt and economically unstable country, which has been a playground for a tug of war between creepy fundamentalism and rigid secularism, I was exposed to similar dysfunctional education system, parental and societal expectations, and gender discrimination she described vividly in her coming-of-age book. I was there!
Amidst this suffocating political and social landscape, each one of us has had a unique journey of self-discovery. Our close-knitted society would hardly let our individuation take place beyond the already-marked off boundaries. Yet, we were trying to find our true calling in life… Dare to disappoint is a story of hope, humor and inspiration for those who feel lost along the way… and it is also a tribute to the struggle our adolescent selves went through…
ÖZGE SAMANCI, a multi-media artist, is currently teaching at Northwestern University as an Assistant Professor in the Department of Radio, TV and Film. Her published books are as follows: The Irresistible Rise of the Animation by Istanbul Bilgi University Publications (2014) and Dare to Disappoint by Macmillan: Farrar, Straus and Giroux (2015). She shares her ordinary moments in comic style in her blog, Ordinary Things.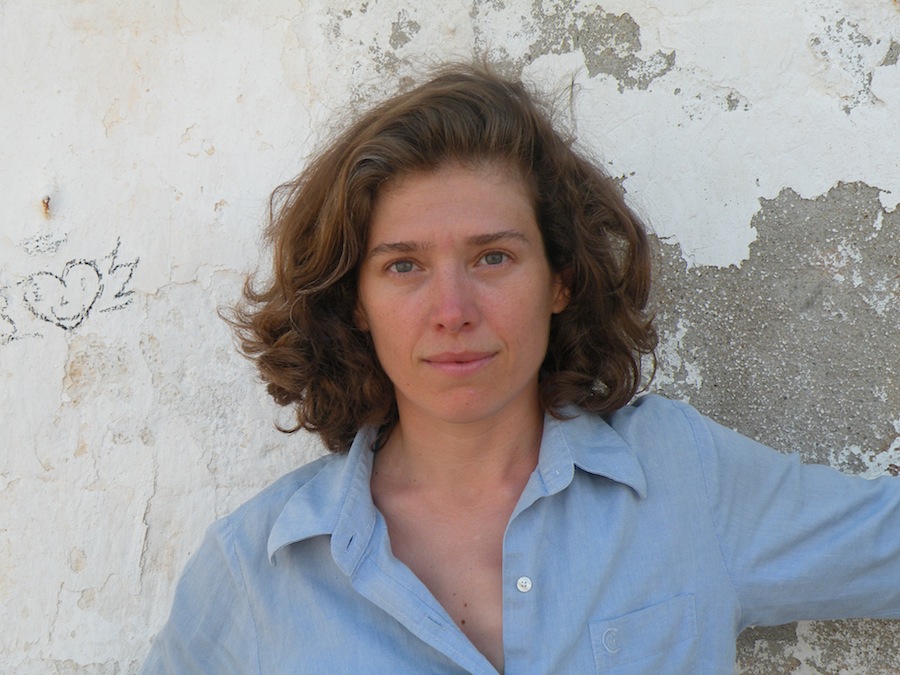 Photo credit: Shirley Adams
Here is the  book trailer; just a teaser but you will have the itch to get the book!
Is your graphic novel, "Dare to Disappoint" a way of coming to terms with your childhood and adolescence in Turkey?
More than that! The book is about preciousness of life. When we go with the flow and live for pleasing family, it is easy to waste that precious life. In the labyrinth of Turkish education system, I ended up studying mathematics. I could not imagine my future. I was not passionate about math or making money. The thought of spending my life in a cubical depressed me. The worse was I did not have hope to change it. I was not particularly good at anything. While I was in that dark side, I wished for a role model or a book that could offer me hope. Unfortunately, such a spark of hope did not come my way so I wrote this book. My motivation is to show that there is an escape if we are willing to take risks and work hard for years.
In your memoir, we see junior Özge fascinated by learning and school before she starts school. Adolescent Özge survives tough times in formal schooling all the way from primary school till the end of college. Then, much to our surprise, in real life we find Adult Özge again in education. But, this time as an educator. Do you think being a teacher helped you recover from school traumas most of us are subjected to?
I grew up in schools. I started kindergarten when I was 2.5 years old because both my parents were teachers. My bed for noon nap in the kindergarten was in the office of the principle and I took my naps there with the principle's daughter; we were too young to be with other kids. Whenever we found chalk, I used to play school with my sister. We used our closet doors as blackboards. Teaching is in my blood. I wanted to handcraft a life that is different than my parents' life but ironically I became a teacher like them. However, teaching is only a part of what I do, I do research, build art installations, and make comics and graphic novels. I did not become a teacher to recover from the traumas of Turkish education system; school is my habitat.
How would you compare the education system in Turkey to the system in America? Do American parents have such a weighty say in issues regarding the future of their children?
As far as I have observed, students in the US have more hobbies and variety of interests than an average Turkish student. Students in the States have more opportunities to get involve in sports, whereas there are so many Turkish students who never become a member of a sports team. Unfortunately, politics is not a major focus for majority of US students. This was the case even in UC Berkeley. In the States, changing majors or crafting an interdisciplinary study is relatively easy. Sometimes it takes one email to the academic advisor to change majors. In Turkey, you are stuck wherever that monstrous nation-wide college entry exam throws you.
It is a human condition to try to please parents. Many students go through that struggle in the States, too. But most young adults in the States start earning their money early so they become economically independent from their families earlier. Here is the caveat. They develop a different kind of dependency on capitalism by having a gigantic tuition loan. Some of the students in the US end up working in jobs, for which they have no passion in order to melt down that loan.
What helped you most in your struggle with the dysfunctional education system, the depressing political atmosphere, and the economic volatility in the 80s Turkey? Was it humor and hope that you used as an instrument?
There was a lot of humor, but no hope. My main tools were working hard for years, not giving up, developing a thick skin for occasional rejection, and the support of my sister and my friends, and my mom's eternal optimism.
 Like many Turkish women, I developed a skill and strategies to be invisible when needed. That unfortunate invisibility protects you while it makes you conform to the patriarchal system.
What did it feel like growing up as a non-observant "Muslim" girl in a conservative and patriarchal society, which frequently likes to underline that 99% of its population is Muslim?
I felt the pressure of patriarchy more than religion maybe because I grew up close to sea in Izmir, which was more liberated back then. Pressure of religion was not that dominant around me. It became painful in high school since the school I attended was politically polarized. Women and non-observant Muslims were minority. I still would rather be minority than majority. It helps you to see the world in layers, and avoid thinking black and white.
When I go to a beach town in Turkey, I realize what we are giving up. In the beach towns, women have some kind of freedom that does not exist in the cities. In Istanbul, leaving aside conservative neighborhoods such as Fatih, Bağcılar, Esenler, etc. even in Kadıköy or Beşiktaş you can't wear whatever you want. Like many Turkish women, I developed a skill and strategies to be invisible when needed. That unfortunate invisibility protects you while it makes you conform to the patriarchal system.
I only mention one struggle here, but there are many others. It is hard and costly to be honest and say out loud what you believe or do not believe in Turkey.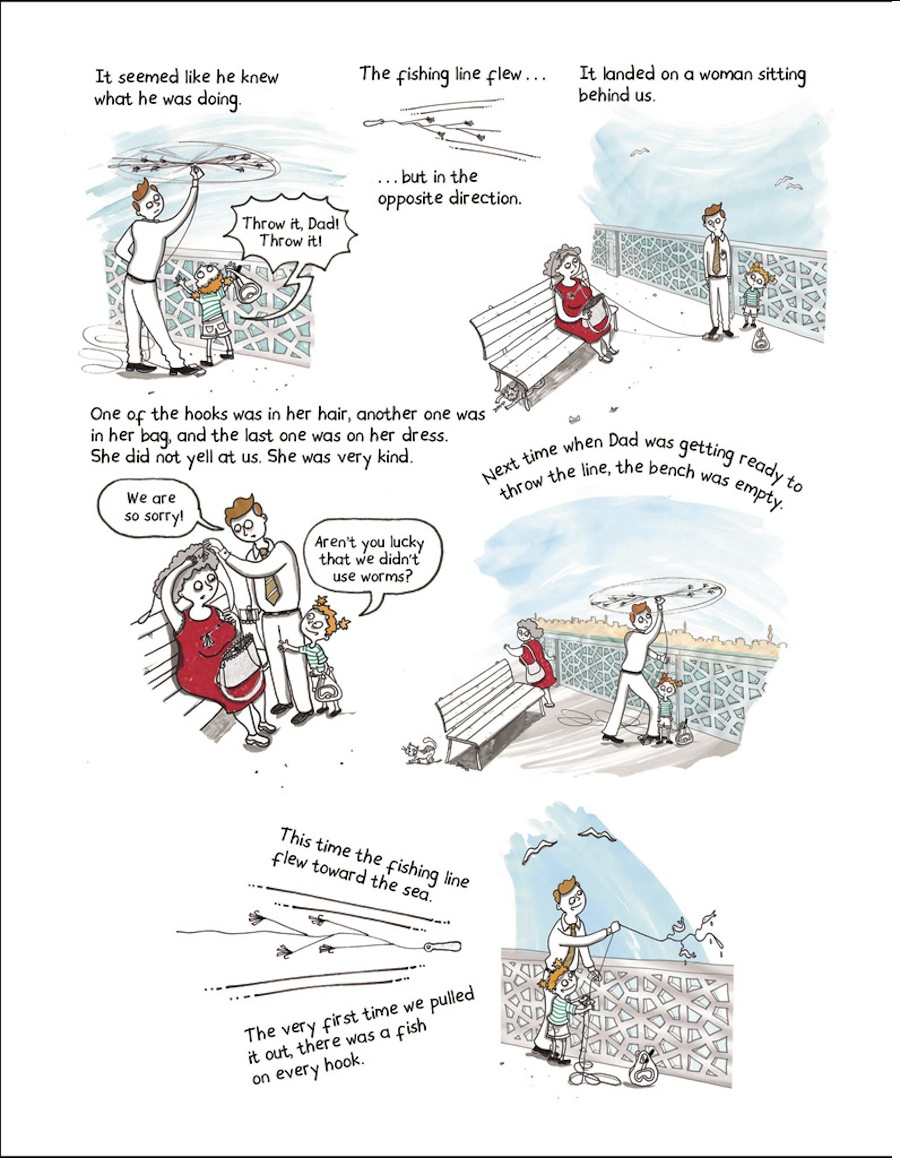 As an Izmir girl, how do you remember your Istanbul years? How different did it turn out to be from the expectations of your childhood?
In high school, I did not get to see much of Istanbul. Istanbul Science High School was a boarding school and we were studying even at the weekends. We mostly explored Kadıköy, Moda, Kuyubaşı and my uncle's apartment at Fikirtepe. At the second year of high school, my uncle Nihat took me to Taksim and Galata. I was fascinated. We ate profiterole at Inci Patisserie, a historic location, which has since been forced to move from its original location by the greed of AKP.
Even when I was at Boğaziçi University, we would hang out at main neighborhoods like Bebek, Beşiktas, Kadıköy, or Etiler. It took years for me to discover the rest, the other side of the medallion.
As a kid, I imagined Istanbul as pure fun and full of flow and movement. I loved fishing, street sellers, sounds, up hills and down hills, cobble stones. I admired that it snowed in Istanbul. We did not have snow in Izmir at all. Then in Istanbul Ataturk Science High School one snowy day, I tried to walk to newspaper stand to buy newspapers for the school. When my socks were soaking wet for one whole day, my fascination with snow reached an end. Now, I like Mediterranean climate, palm trees and sea.
How did your blog, Ordinary Things come into being? Was it an effort to gain self-discipline on your way to your book?
Before I began making this book, I developed an aesthetic to use in this book and that took 5 years. This book idea was so perfect in my mind, I was afraid of trying and ruining it. Instead of making this book, I began an online comics journal, Ordinary Things, www.ordinarycomics.com  in 2006. I began this online comics journal to entertain my friends, keep my hand moving, experiment and find a distinctive aesthetic to use in my book in the future. While I was making images for Ordinary Things, I was so relaxed. I had no fear of criticism and I had pure joy making the images. Ordinary Things gained viewers from all over the world. I was drawing one moment that remained in my mind everyday. I experimented with mixing drawings and collage. I taught myself using watercolor and acrylic. First, I became fearless about making mistakes and then, I learned how to turn mistakes into a part of the work. I used three dimensional materials such as broken DVD player pieces, broken headlights of a car, jewelry, swimming goggles, latex gloves, popcorn, leaves, pebbles you name it. When I started making the book in 2010, I knew my favorite techniques. I only needed to decide which technique or material creates the best metaphor for the parts of the story.
 Perfectionism is a gift and a curse.
I feel you have given breath to every object I remember from my childhood. Are you a detailist and/or a perfectionist?
Yes and no. Perfectionism paralyzes us. I am aware of that side of perfectionism, and I move on. There are times that I see the image in my mind's eye and then I work hard to bring the drawn image to that level. For example, I was a perfectionist for the cover of the book. I worked on one image for two weeks whereas this entire book took five years to make. I pay attention to details but I move on. Perfectionism is a gift and a curse.
Once I asked a friend, "Am I compulsive?" and she said "If you ask that to someone who loves you, they will say you are passionate. If you ask someone who does not like you, they will say you are compulsive."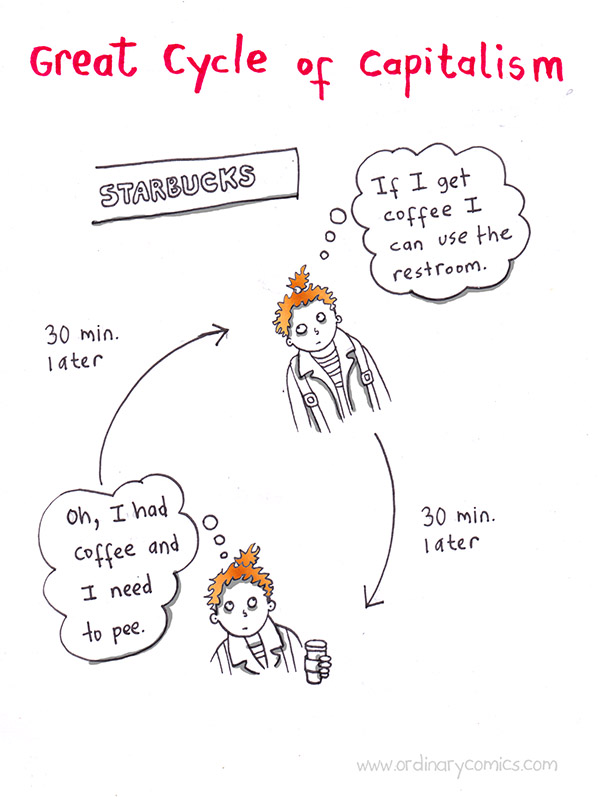 Do you think graphic novel as a medium is a far less confrontational way of narrating harsh stories, especially in oppressed countries like Turkey and Iran? Some events depicted in your story are traumatic for adults, let alone children or adolescents. Did it in any way relieve the tension for you?
Graphic novel is a resourceful medium to communicate harsh stories. I also think that telling harsh stories without alienating readers is not medium specific; it is about the narrator. A narrator can do this in text form, too.
No, I don't get relief by telling a story in a book form. I may get relief by telling a traumatic story to a beloved friend, but not publicly in a book form. Actually, telling it in a book form creates even more stress. When I make a book, my purpose is not about my own personal relief.
How was the reaction of your (Turkish and non-Turkish) readers to such oppressive and violent scenes?
I have not heard about the representation of violence in Dare to Disappoint from Turkish readers so much. It is foreign readers commenting on that mostly. Unfortunately, since it happens a lot around us in Turkey, maybe most of us normalized it.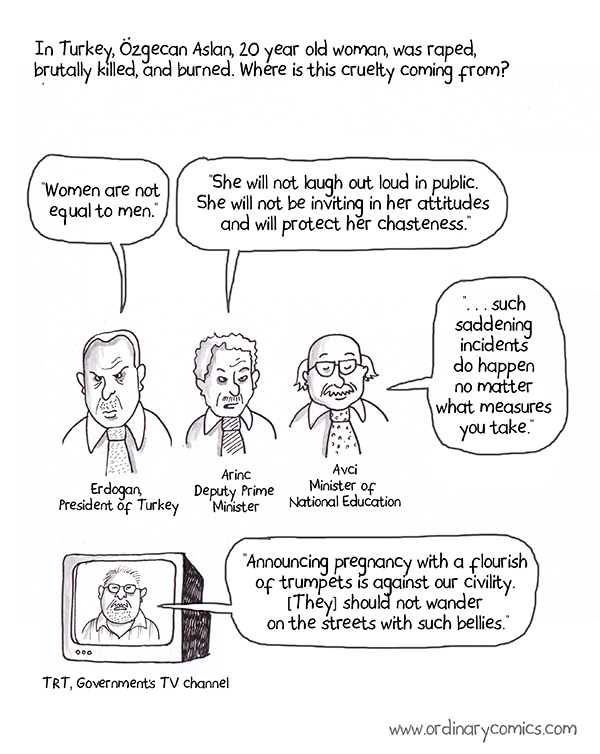 Both your story telling and your comics style have impressed me: Your story is not bounded by any frames; the characters, voice-overs and speech bubbles float freely on the page. A wide-range of mixed media such as collage, illustration and water-color is adopted. I do not know what to expect in the next page. Does this kind of freedom pose any challenge for the reader and/or the illustrator?
Freedom has a cost. Frame borders are helpful to direct the eyes of the readers. I did not want to use frame borders since memories don't have borders around them; they are fluid. The form I created is full of surprises, as you said, but I had to use many invisible strategies to create a visual hierarchy on the page so the readers know where to look next. Each page was a mathematical problem.
Are you going to tell us the rest of the story in a follow-up book?
The next book is going to be a fiction. I want to explore the freedom that fiction offers. After that next book, I may come back to autobiography or autobiofiction.
CREDITS, LINKS & FURTHER READING
Images courtesy of Özge Samancı and Farrar, Straus and Giroux
Ordinary Things, Özge Samancı's online comics journal
How I became an artist: Tips for Changing Careers by Özge Samancı
If you are considering buying her original work of art, have a look at the link Buy Art or just send an email to [email protected].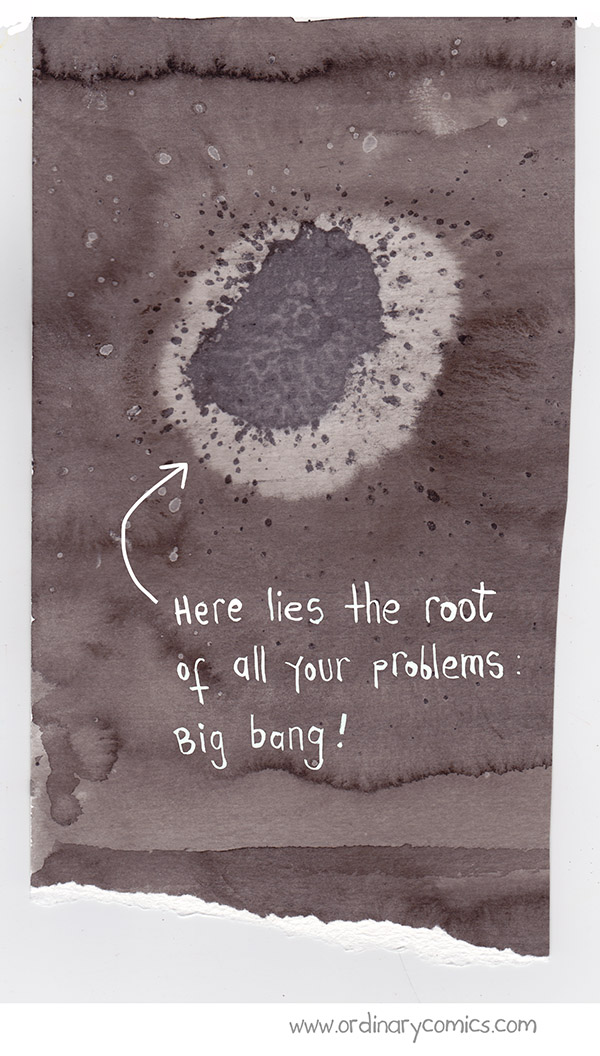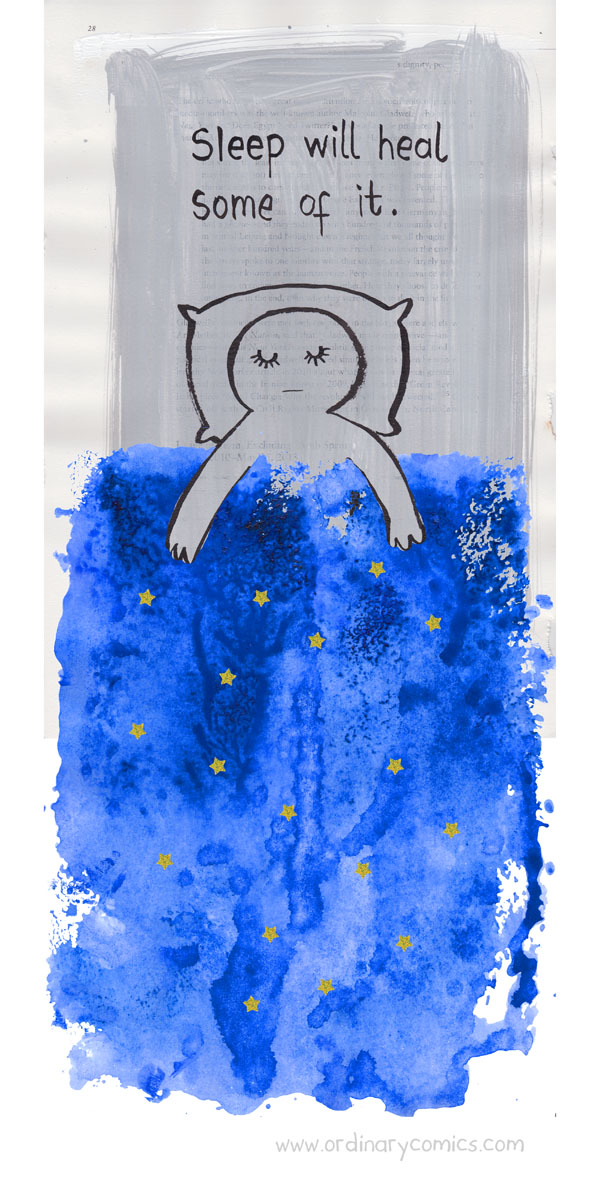 Tags:
80s
İzmir
Özal
Özge Samancı
Özgecan
Boğaziçi University
book trailer
childhood
comics
coming of age
democracy
diaries
education
fishing
Galata bridge
gender
graphic novel
inspiration
memoir
memories
mixed media
nostalgia
polarization
Turkey