I met contemporary artist Kezban Arca Batıbeki at a Soho House event last summer. She cordially hosted us in her beautiful studio in Sant'Antonio apartments. We had the great opportunity to meet her in person and ask anything about her art and life while we enjoyed  the old town view from the studio on a summer afternoon. I was familiar with  her  pop world full of  feminine characters and bright colors but I did not know much  about her works on Istanbul. I got excited about an interview and she was polite enough not to turn  down my request. The more I read about her works, the more I got immersed in her world-the world of women, which she challenges with her keen and insightful observations.  Batıbeki, being also an Istanbullite, talked about the past and the future of the city and the inspiration she draws from it for her art. 
BACKGROUND
Who is Kezban Arca Batıbeki? How would she like to describe herself? What is her background?
Considering the works I have produced in many disciplines such as painting, installation, short film, I'd better define myself as a contemporary artist. Studying Graphic Arts at the university rather than Fine Arts was the best decision I made, which, I believe, has allowed me to be independent while producing my art work.
*Photo by Sezer Arıcı
HER WORKS
Günseli Inal, in her book titled Kezban Arca Batıbeki, states " A Kezban Arca Batıbeki canvas has only one area of expression. (….) There is a conscious reduction in the paintings' characteristic absence." Would it be correct to say "Less is more" is one of your principles?
The answer to this question actually concerns your perception of art. Maybe it is art historians that analyze artists better than the artists themselves. My works are variable. I prefer forming graphical compositions, as I have mentioned above. Minimalist artists, on the other hand, do with much "less" than I do.
 Scarlet blues for one woman band 2 (1998)
When I have a look at your works, I see a colorful pop world with dominant feminine energy, which does not leave much room for masculine energy. Through exploiting digital tools, bright colors, signs of action and suspense, and familiar images from the pop world, what kind of women do you create? How do you define the female subjects of your art?
It is true that I am focused on the feminine world, which I am a part of. Women, all around the world, are being turned into an object, bereaved of their identity. They become carbon copies. No doubt, women are partly responsible for this situation. Many women, out of their free will, are condemned to a so-called safe but dependent life. Many consider it natural to obey the decisions made by the male members of their families. What bothers me most is that the ones who bring up these oppressive men are indeed mothers and women themselves.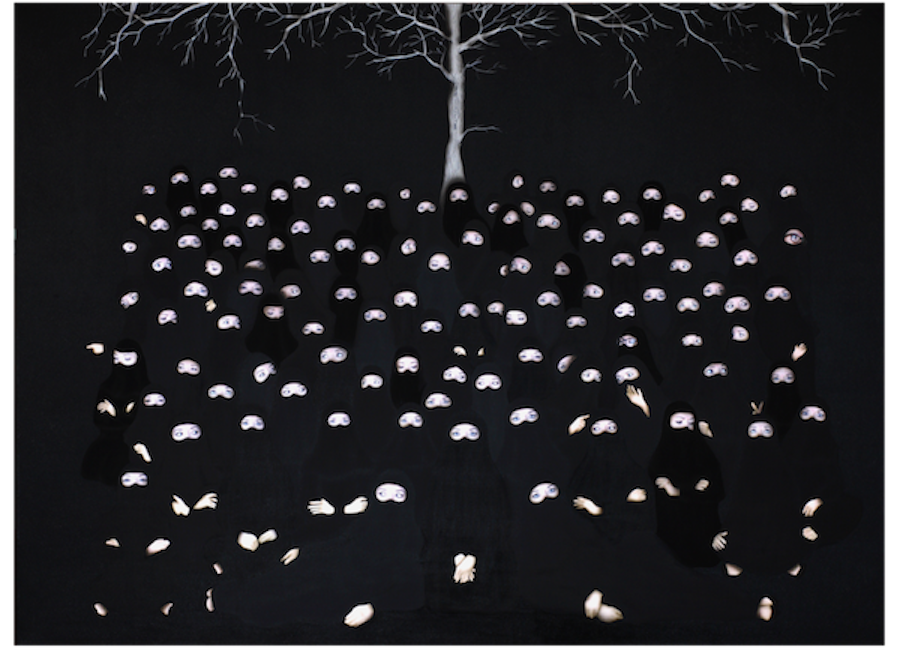 Reunion (2013)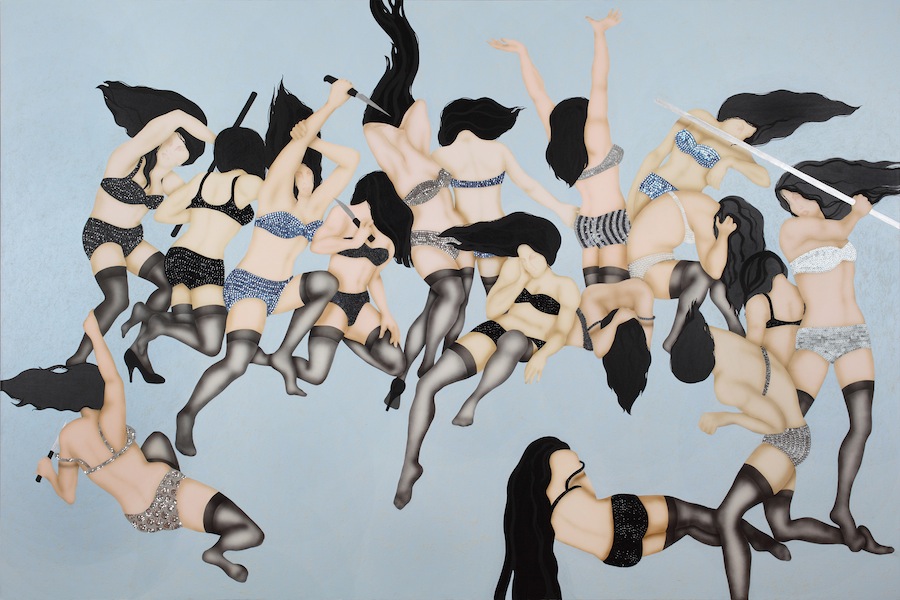 Pulp fiction series (2010)
We do not get to see many male figures in your works or feel a masculine energy even though women are depicted with animals at times. Is this a criticism to the feminine world or do women exist as victims in your works?
I like using independent and strong animal figures, especially felines in my art works. I use male figures from time to time, too, but these figures usually tend to be oppressive mainly because I prefer to exploit such themes. The women in my works choose to be "victims" out of their free will but they are not aware of their victimhood.
Transformation 2 (1991)
Big red circle (2012)
We came across Amazon women in one of your series. In some sources, Amazon women are considered to be Hittites' warrior priestesses. Real or myth, it has happened to have arisen from this land. Do you think women of this land still carry this spirit within? Why did you prefer to reproduce this archetype?
You are talking about one of my earliest series-Amazons. My Amazons are on the merry-go-around horses, which in a sense represents a vicious cycle. The Amazon woman is condemned to be stabbed in the back while she is stabbing the Amazon woman in the front. She thinks she is fighting, but actually it is a vain attempt. In the end, the theme is the same. She considers herself strong, but actually she is so fragile.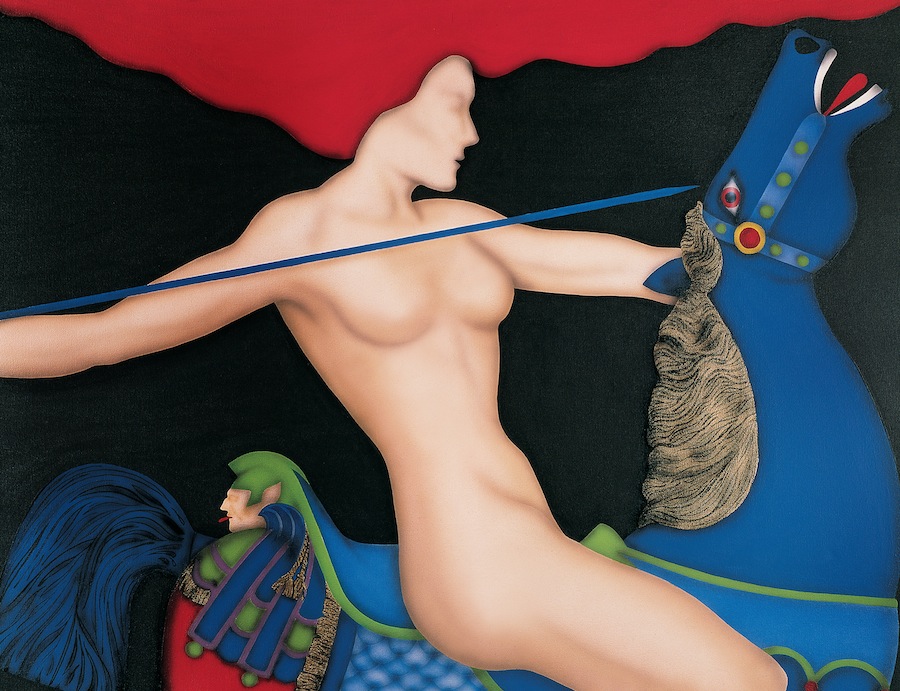 Amazon series (1991)
"A room without a view" is one of my favorite works of yours. It is an art work of objects installed on 5 wooden panels with the collage technique. It conveys a strong sense of emotions, probably because it is an installation. Melancholy is a dominant feeling. Whose stories did you want to tell? Are these the stories of Istanbullite women?
For this art work, I considered the story of five Istanbullite women of different religions, who share a similar kind of loneliness. My starting point was my aunt, who never got married. He lived with my grandfather, and soon after his death, she died, too. After her death, we happened to find a big chest of dowry, which means she must have dreamt of getting married. It seems none of her suitors were good enough; she took shelter in the comfiness of her father's place. While she was waiting for the Prince Charming, she confided in her tiny cocoon and faded away. I worked for almost a year for the series. It took a few months to work in wood ateliers. I collected many unhappy bride photos, books that present women as an object and symbolic objects from second-hand shops, and vintage shops. It holds a special place in my portfolio.
 A room without a view series (2014)
Milliyet Publishing House Children's Books series was one my favorite series in my childhood. I later read that it was you who designed the covers. What kind of a project was that? Which ones did you design? Did you design anything else in that period?
That series was my first work in my freshman year as a Graphic Arts student. "Project" was not a hype word back then. "The Paul Street Boys", and "Balıklı Koy" were the first books that comes into my mind. I did the book covers and illustrations. In the same period, I also worked for children's books series for Can Publishing House. I was an in-house illustrator for Milliyet Gösteri art magazine. I designed numerous covers for books and magazines; it is hard to remember now. I worked for almost every magazine published in that period. I also wrote about arts and my travels. I worked as a Photography Editor and also for one year I worked as an Art Director for Karacan Publishing.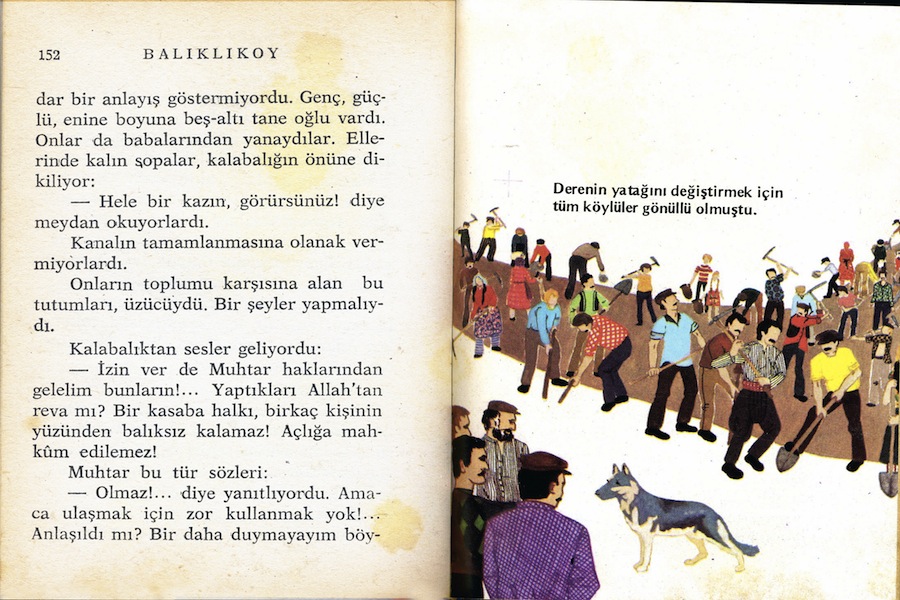 CINEMA
You are an artist who creates in various disciplines. You have a 9 minute-long video film, a take on the movie, Aahh Belinda, directed by your father, Atıf Yılmaz and written by Barış Pirhasan. While your father focused on the challenges women face, you prefer to focus on the challenges gays face. Has Turkey progressed since your father shot movies that explore women's struggle to exist as an individual in the society? How is the position and status of women and gays in Turkey now?
I believe we have not progressed at all. That's why the movie still resonates. Nothing has changed in the lives of women. The movie is actually a part of my exhibition, "A room without a view". Family pressure, which suffocates  a free-spirited woman  in the movie, is a problem that gays face as well. Many gay people feel obliged to make unhappy marriages because they cannot come out of the closet and tell it to their families.
 Aahh Belinda (2014)
The representation and presence of women of this land in Atıf Yılmaz movies is totally different from that of Yeşilçam-Turkish film industry. It is clear in his filmography that he reflected on women issues. Do you think in addition to your being a woman your father's stance on women issues has been influential on the issues you exploit in your art? How were the male and female role models in your family?
Actually, Yeşilçam tells the story of an ordinary Turkish woman. She is always a poor victim. Always proud. She always expects to be saved by a man. Atıf Yılmaz is the first Turkish director, who turned this role upside down. I don't think there are many other directors like him in the world either. My father became a feminist in his middle-aged years. He owed his stance to his friendships with independent women. I am included in this group, too. My mother, Nurhan Nur was an educated woman who knew how to stand firmly on her feet independently. She brought me up on her own after her divorce. I did not grow up in an oppressive environment; I was always free. However, I believe I would have fought for my freedom if it were otherwise.
You use various media either all together or separately. Compared to cinema, your playground is much more independent and larger. How do you come to terms with Yeşilçam and cinema under these circumstances?
I got involved in Turkish cinema in the past. I was the art director in three of Atıf Yılmaz's movies and I also designed numerous film posters. I used to get involved in film credits and also worked as a location photographer. The world of cinema is actually an ungrateful field; there are many other factors that are in play. If one fails, the movie fails, too. In the disciplines I produce, on the other hand, everything is up to me.
ISTANBUL
You were born in Şişli, Istanbul. How was your childhood? What was Istanbul like back then?
I spent my childhood in movie locations and theater halls. I was surrounded by intellectuals and artists of Istanbul. It was fun! I took up playing volleyball when I was in high school. I played in Altınyurt and GS teams, but it seemed I was not that talented and I gave up. At the university, it was all about protests, fired walls, crack downs to find cencored books… It was anarchic. I even attended the "no to cencorship in Turkish cinema" protest that took place between Istanbul and Ankara. And here we are!
How is you relationship with Istanbul? Is it a love-hate relationship?
Absolutely! I sometimes try to view the city from the perception of a tourist. Then it looks like a very liveable city. However, as someone who knows the past of the city very well, I am not very optimistic about its future. I have considered moving to a cosmopolitan city abroad, still considering actually but I am still here as you see. I love way of life in big cities; I am not a nature person but this city could be very overwhelming at times. Interpersonal relationships are deplorable. We have turned into a society that cannot communicate at all.
Time and space is usually blurry in your works. In some of your photo-collage works, for  instance Dolls, Istanbul is in the background. Do you work on Istanbul issues?
I will always make use of Istanbul. It would be a shame not to harness it for it is a good source of material.
 Dolls  (2014)
 Toscana Burning (2012)
Any other works that focus on Istanbul –Istanbul as an actor or a background?
I have a photo series titled "Burned Bosphorus". In this series I explored mansions and yalis-waterfront houses- burned down only to build new, characterless buildings, and also neighborhoods like Sulukule, which were destroyed in the name of urban transformation. I feel I used Istanbul as an actor in those photos.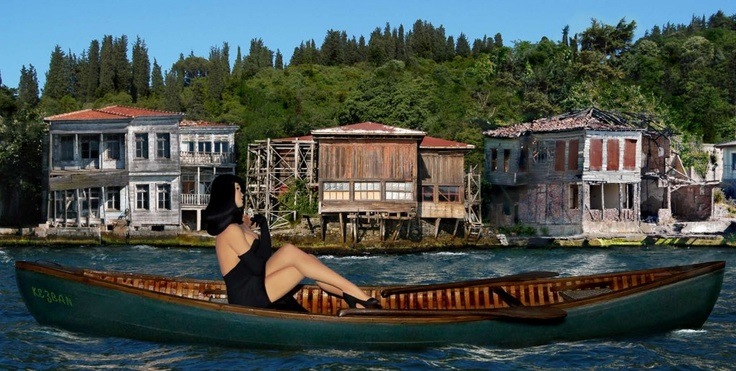 Burnt  Palaces series- Burnt Bosphorus (2007)
Your studio is in one of the most special buildings in Beyoğlu- in the  Sant'Antonio  apartments. Why did you prefer this part of the city?
It does have a special location with the bell towers and minarets bringing East and West together when I look out of the windows! The church bells, the call to the prayer, the street musicians, the protestors in the rallies, and the routine white noise, all intermingle. It is indeed an inspiring place!
TRAVELLING
Sant'Antonio  is a very special place but it is in the midst of everything. On one hand, it is inspiring; on the other hand it is overwhelming. Do you feel like escaping from here? Where do you take refuge when you get overwhelmed by the city?
The apartment in Beyoğlu is my studio. My home is in Salacak, a peaceful place. It overlooks the old town, which I use from time to time in my photos and I live with thousands of objects I used in those photos. My source of inspiration is my home. When I want to run away from something, I take shelter in my home or we travel.
It is obvious you love travelling. What kind of a traveller do you think you are?
My husband and I are curious travellers. I do not ever remember going on holiday to rest. We go on holiday to get tired, we get exhausted of running around and then come back home to rest. Instead of isolated, quiet places, we prefer visiting places, where life feels so vibrant. We enjoy visiting new cities, museums, art galleries, archaelogical sites, flea markets, interesting buildings and people watching in cafes.
How did your travelling experience reflect on the creative sphere? For instance, I have come across your scrap books, which you call fotoroman. Where were they published?
That was a long time ago. Back then, no articles were published on travelling. Today, you see many travelling programs on every TV channel. I was the first one to come up with this idea; and I proposed it to Atıf Yılmaz's production company. They loved the idea, but TV channels turned it down. We lived in a country, where we were allowed to go abroad every two years. Later, I created scrap books about art events in Turkey and abroad for Karacan Publishing art magazine. In 3 pages, I covered the cities or countries I visited with the help of illustrations, photos and handwriting. That was a first in publishing! Then the non-conformist/avant-garde editorial director of Elele magazine, Zehra Midilli, asked me to cover cities as a scrap book every month. I continued the series for a year, when I decided to finish it with the 12th issue, I was invited to Singapore by Singapore Airlines and I was very well-hosted so I finished the series with 13th one in Singapore.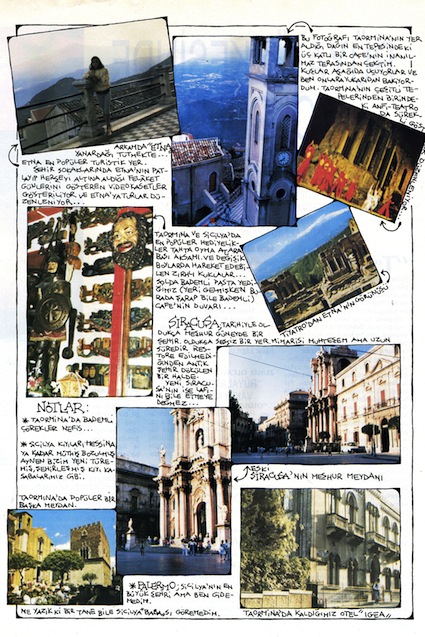 Photos: Courtesy of Kezban Arca Batıbeki
Tags:
Amazon
Atıf Yılmaz
Barış Pirhasan
book cover
Bosphorus
childhood
cinema
contemporary art
exhibition
film
film poster
gender
graphic art
illustration
Istanbullites
Kezban Arca Batıbeki
mixed media
nostalgia
Nurhan Nur
photography
Sant'Antonio
scrap books
Soho House
video art
women
Yeşilçam