I am not necessarily known for my cooking skills, and as you must be well aware by now that I am a bit weak on the Turkish cuisine. My last tantrum took place in the kitchen a few months ago in Lesvos. I ended up cooking casserole without homemade tomato paste because my poor Greek tripped me up while shopping. Upon the results, I confess I broke down and cried. Well, that was before I downloaded one Greek-English dictionary into my smart phone.
Still, I need help with a lot of things. My always-on-the-go mum is not usually on the other end of the line. So I have no option but to turn to blogs and vlogs on the Internet. If there was one thing that could come to my rescue, it was A. Gülden Bickerstaff's blog, VegFusion. A Turkish foodie and a food blogger, Gülden knows the challenges of cooking Turkish food in a foreign country. Her command of Turkish cuisine, coupled with her beautiful wording and easy-to-follow instructions help out a kitchen illiterate like me when it comes to even basic things like picking and storing vegetables…
My first pick from her blog is an eggplant dip, a favorite dish of mine after I quit smoking.
THE SULTAN OF TURKISH CUISINE: EGGPLANT
Originating in India, eggplant, also known as aubergine, has a special place in Turkish cuisine. We Turks believe that there are over a hundred different eggplant dishes, if not a thousand in our cuisine. Since eggplant is an incredibly versatile vegetable, it might even be true!
EGGPLANT SEASON & VARIETIES
Eggplant is available all year around, though fresh, locally grown eggplants are best in summer and early autumn.
Purple is the most common type of eggplant however occasionally you will see white ones, which explains their name of egg-plant. Big, round ones suitable for smoking, mid-sized ones are good for stuffing and long and thinner ones are best for kebabs and casseroles.
WHAT TO LOOK FOR
A smooth, shiny skin free from brown blemishes –their skin should be a deep, even, purple colour. Gently press the aubergine at its flowering end to test for firmness. A very soft feel indicates that it may be over-ripe whereas extreme hardness indicates that it may be under-ripe. Select eggplants which feel heavy for their size.
HOW TO STORE & COOK EGGPLANT
Ideally, in a cool but not cold place however, city dwellers should store eggplants in a plastic bag in the crisper of their fridge and, in any case, eggplants should be used within 3 days.
Although eggplant does not respond well to boiling or steaming, there are many flavoursome cooking methods which work very well. These methods are: baking, smoking, deep-frying, pan-frying or grilling.
HOW TO PREPARE EGGPLANT
Wash and trim the flowering end. If the aubergine is young, it may be chopped without peeling. If it is slightly larger and older, it may be tastier if peeled and seeded. In Turkish cuisine, eggplants are peeled in stripes.
Salting Eggplant: Salting is used when cooking eggplant to draw out excess moisture and any bitterness from the vegetable. To salt eggplant, chop or slice according to the recipe. Place in a large colander and sprinkle with salt. Leave for at least 30 minutes. Rinse it well under cold water and pat it dry with paper towels.
FAMOUS EGGPLANT DISHES IN TURKISH CUISINE
There are many classic dishes featuring eggplant in Turkish cuisine. Here are some famous examples:
Mezes like Babaganoush (smoked eggplant dip with tahini), Şakşuka (cold starter with tomato sauce and yoghurt) or Yoğurtlu Patlıcan Ezme (recipe below)
Vegetable bakes like Patlıcan Musakka (similar to its Greek cousin; moussaka)
Stuffed eggplant dishes like İmam Bayıldı (stuffed eggplant with onion, garlic, peppers and tomatoes) and Karnıyarık (stuffed eggplant with mincemeat, onion and tomatoes)
Patlıcan Köftesi (eggplant fritters)
Güveç (clay pot dishes), Sebze Güveç (all vegetable clay pot dish) and kebabs like Meftune (a lamb kebab featuring eggplant, onions and tomatoes) or Ali Nazik Kebabı (kebab is served on a bed of smoked eggplant and yoghurt mix)
Kızartma (deep fried eggplant –and other vegetables always served with garlic yoghurt)
Yaz Türlüsü (summer mix vegetable dish) 
Közde Patlıcan Salatası   

(Smoked Eggplant Salad)

Börek (eggplant as pastry filling)
Turşu (pickled eggplant)
Reçel (eggplant jam) and Patlıcan Tatlısı (eggplant dessert)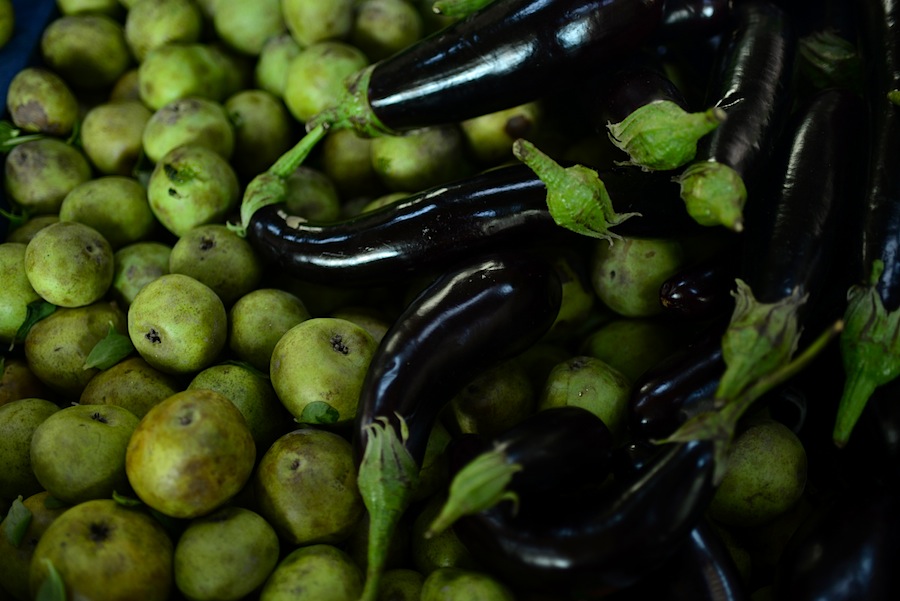 EGGPLANT DIP WITH YOGHURT (OR YOĞURTLU PATLICAN EZME)
This is a fast and easy meze (cold starter) featuring eggplant. Mezes are very sociable; bringing together all the diners at the table. This substantial dip is best served with lightly toasted Turkish bread as a starter/appetizer.
INGREDIENTS
1 large round eggplant
1 tablespoon Greek style plain yoghurt
1 large clove garlic, crushed
Juice of ½ lemon
1 tablespoon flat-leaf parsley, chopped
Salt and pepper
METHOD
Peel the eggplant completely and cut into chunks. Place in a large colander and sprinkle with salt. Leave for at least 30 minutes. Rinse it well under cold water and pat it dry with paper towels.
Heat the oil in your deep-fryer to 180°C/350°F. Drop the eggplant pieces into the hot oil carefully and fry until golden brown.
Transfer onto a plate lined with paper towel to get rid of excess oil.
Place the yoghurt and deep-fried eggplant in a small food processor and whizz it up until it is dip like, scraping the sides every now and then to achieve more even texture.
Place processed eggplant in a bowl. Combine with crushed garlic, lemon juice and parsley. Season with salt and pepper and serve with Turkish bread. Enjoy or "Afiyet olsun" as we say in Turkish.
LINKS, FURTHER READING AND CREDITS
Gülden Bickerstaff is a dedicated reader and writer of two blogs: her food blog, VegFusion  and her author blog,  A. Gulden. 
Istanbul Travelogue thanks A. Gülden Bickerstaff for guest blogging!
 Photo credit/Image #1 A. Gülden Bickerstaff
Tags:
A. Gülden Bickerstaff
A. Gulden
Afiyet olsun!
appetizer
food blog
Lesvos
market shopping
meze
recipe
Turkish cuisine