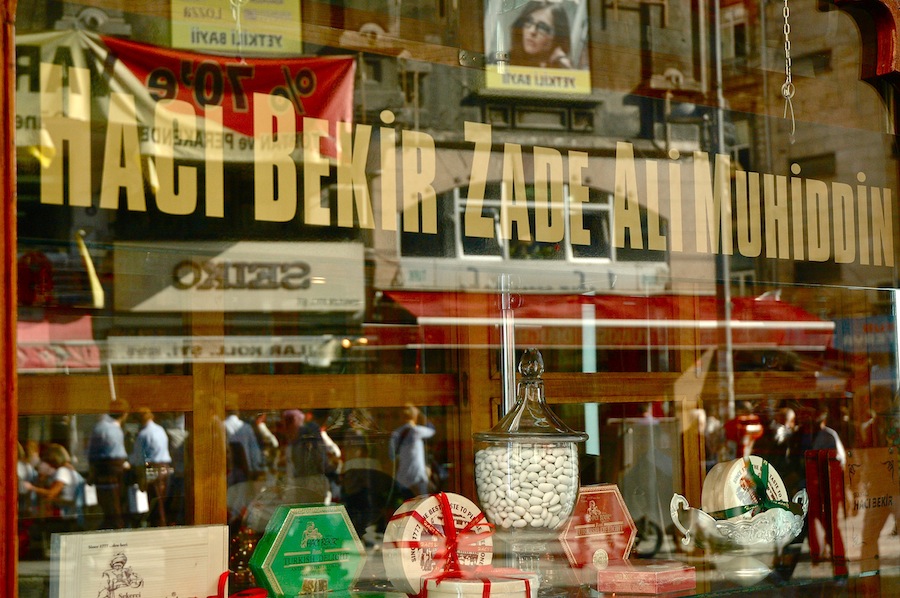 The vintage sign of the Haci Bekir confectionary store famous for its Turkish delight has always been inviting. So is the store with its old-fashioned charm. It is one of these traditional Istanbul shops you cannot miss if you stick around Eminönü or Beyoğlu for a few days. And believe me, it does not matter whether or not you have a sweet tooth, anyone could be spellbound here; jars brimming with colorful dragées, smell of the marzipan, and the Turkish delight covered in the powdered sugar, which I believe gives it its heavenly look. Here, treat yourself to various flavors of Turkish delight; cinnamon, almond, rose, date, mastic, you name it. They will let you try if you are a bit hesitant:) In case you wanna try making Turkish delights, check out some recipes here.
HACI BEKIR AND RECREATION OF TURKISH DELIGHT
The creation of Turkish delight dates back to the 15th century but it was Hacı Bekir who experimented with the ingredients in the recipe, resulting in the taste we know today. Appointed as the court confectioner during the reign of Sultan Mahmud II in the 19th century, Hacı Bekir turned this delicacy into one of the first Ottoman trademarks. It is called lokum in Turkish but I find the resonance of the word "Turkish delight" to be more powerful than lokum:) Etymologically, lokum seems to have been derived from the word lokma, which translates as morsel. Enjoy it with your Turkish coffee. As Turks always say, let's eat sweet and speak sweet:)
THE STORE BY THE ORIENTALIST PAINTER PREZIOSI
Below are the two water-color paintings of the store by the Maltese Orientalist painter, Amedeo Preziosi,  who initially intended to spend 2 years in Istanbul but fortunately ended up here, creating a huge collection of the 19th century Istanbul. Lucky us…!
Tags:
Amedeo Preziosi
Eminönü
Hacı Bekir
lokum
old town
Orientalism
Ottoman sultans
signs
traditional shops
Turkish Delight